One of the first projects I worked on for 2014 was a series of outdoor illustrations for Australian based 
Every Mountain
. Nothing starts a year off on the right foot like a great client with fun subject material!
Every Mountain
, helmed by Andrew Wood, wanted to create a distinct look for their online store and point of sales displays in their physical store. To do that, they chose custom illustration from the
OCS
.
The project started off as 2 illustrations, but as we explored the themes, topics, and color combinations, the project grew to 3 illustrations with 2 additional color combinations which Every Mountain used to simulate changing times of day. The site looks fantastic and has a lot of great deals - be sure to check it out!
First up are the illustrations in their final form.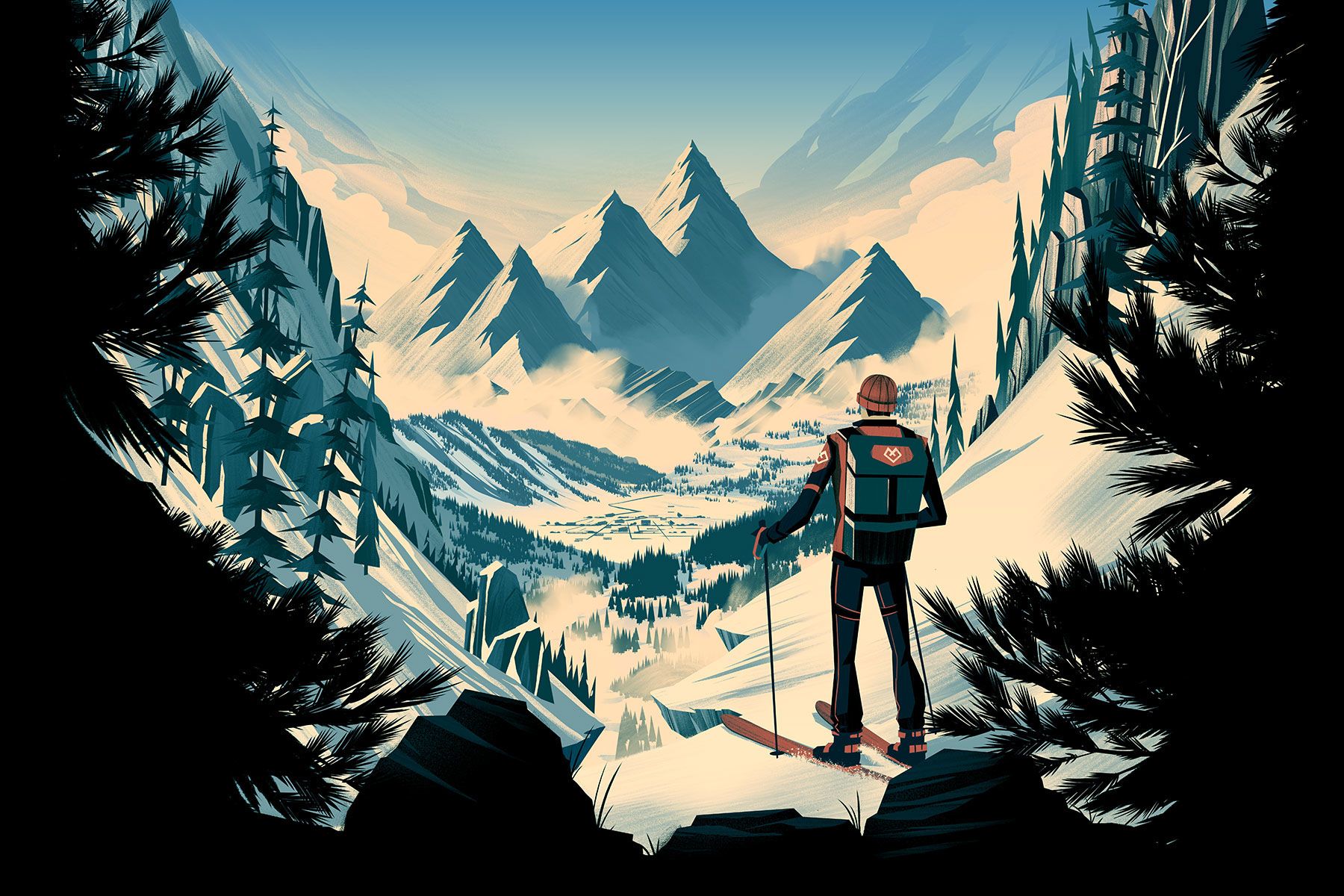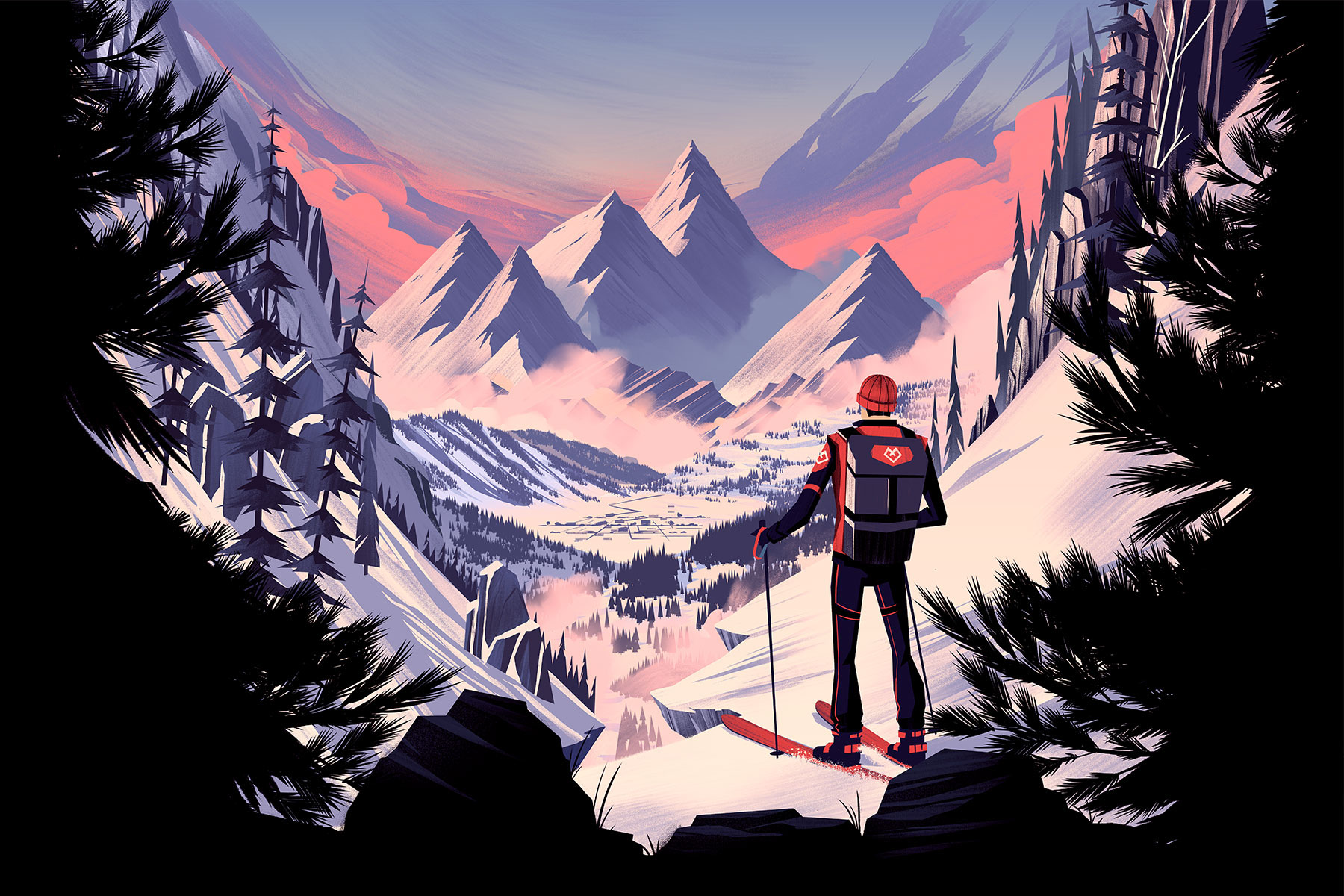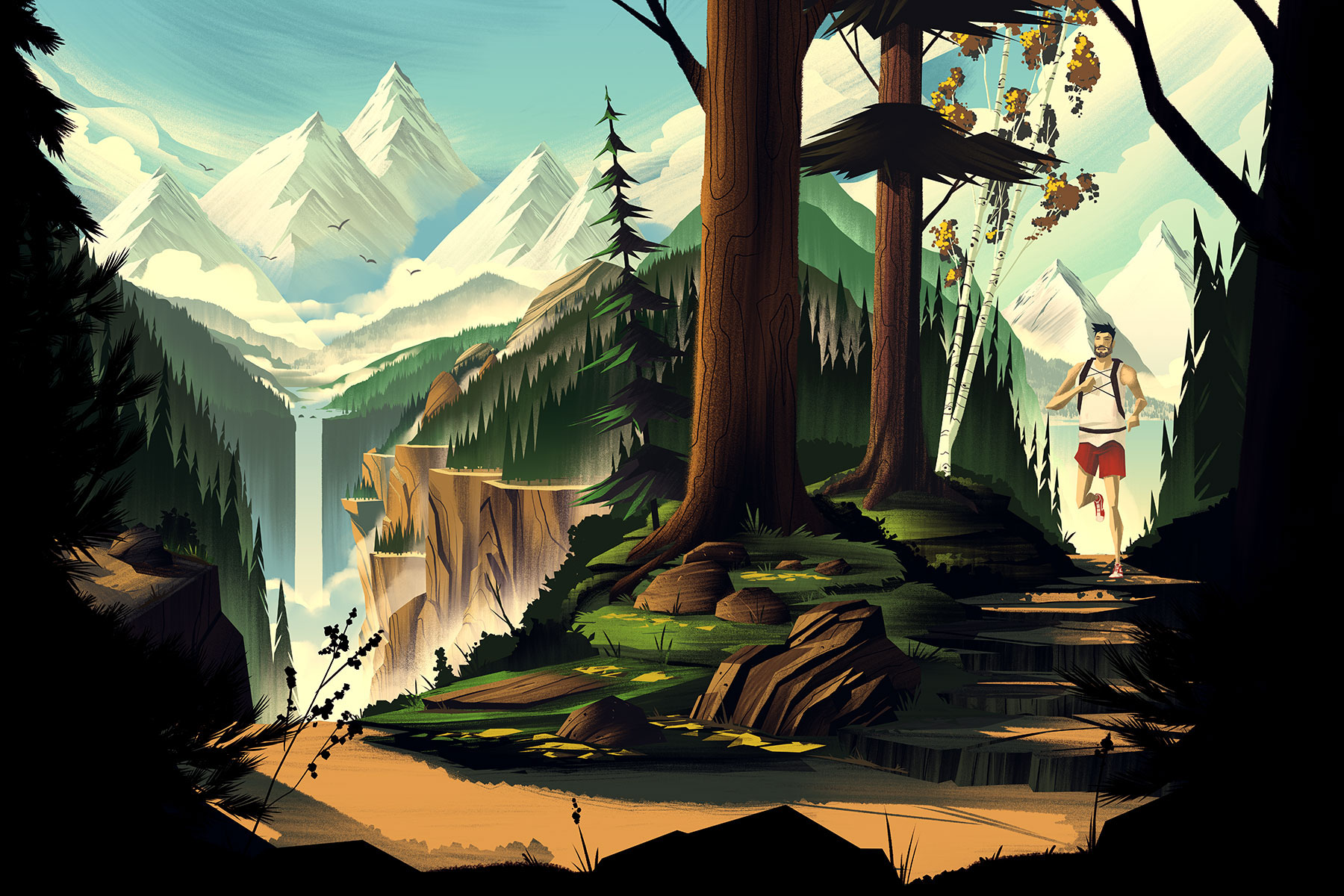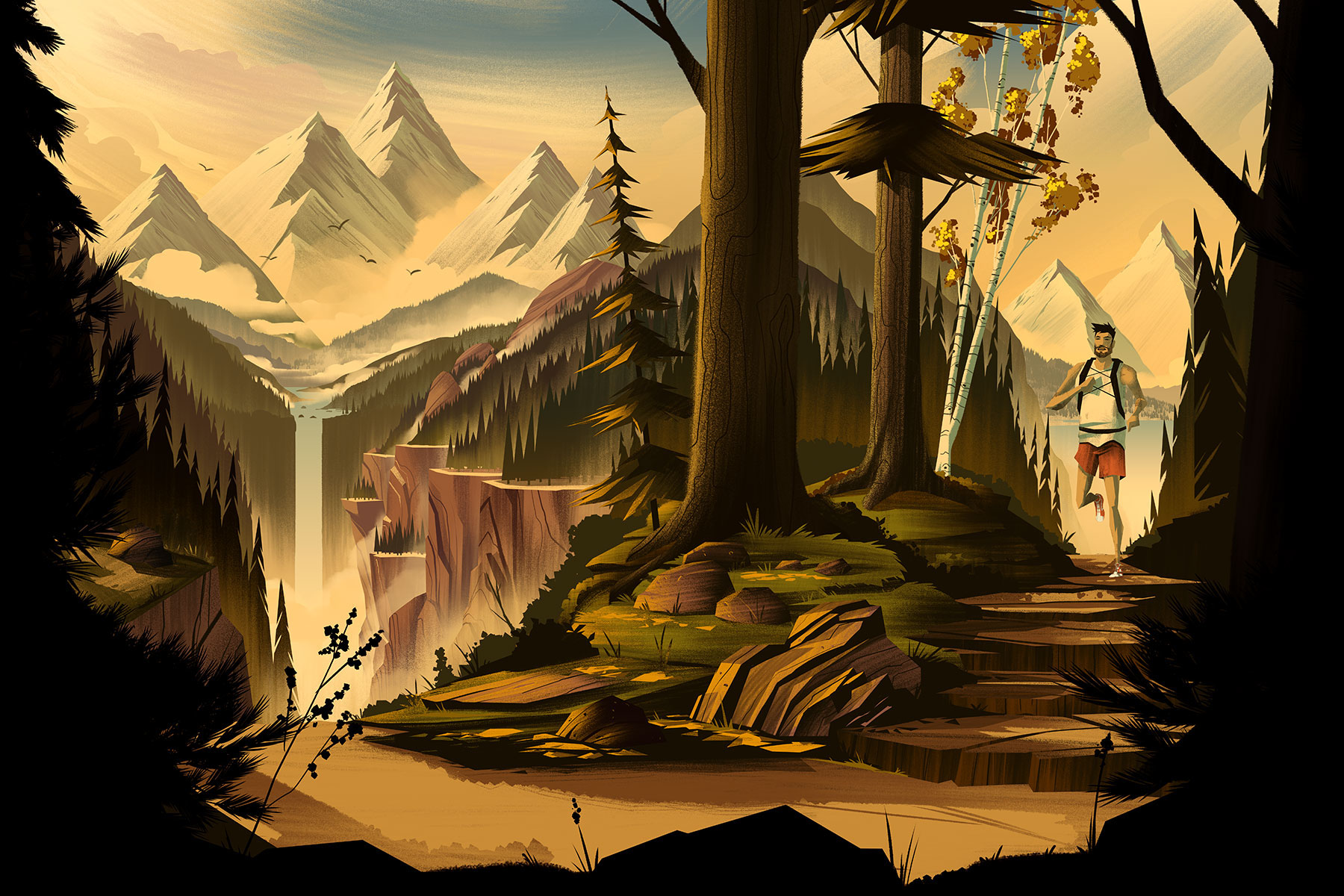 I changed up my sketching process on the first illustration I did for Every Mountain in an effort to work with more speed and clarity to set the overall direction for the series of illustrations. This meant I did no preliminary sketching and instead worked with large brushes in photoshop to create a speedpaint. Once that was approved and we were all excited about the direction, I moved to my typical illustration process which has me layering and detailing everything. After that, it was time to find the right color palette for the illustration. As it turns out, two of the color options were chosen and used in an animation sequence which simulates the changing light of day.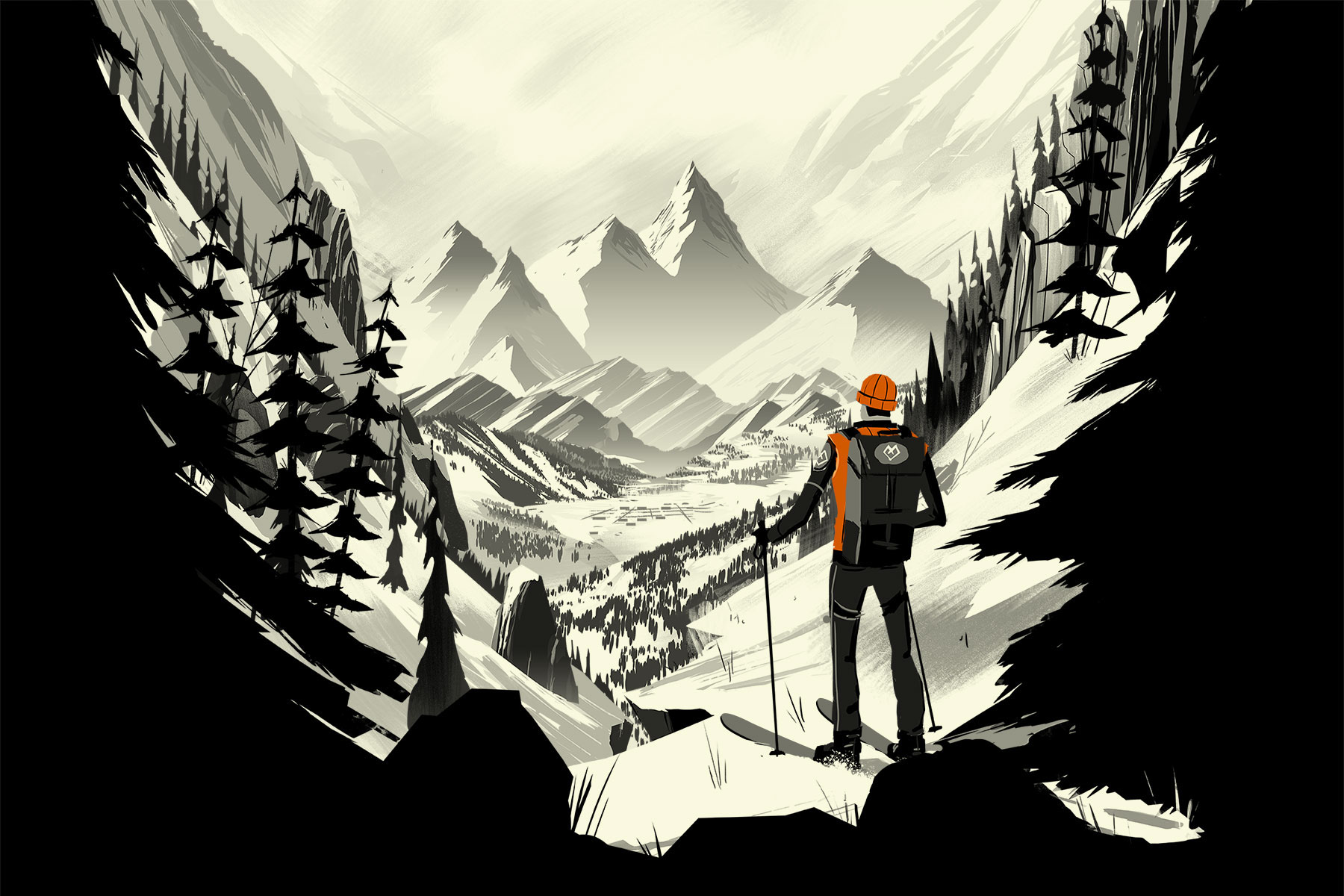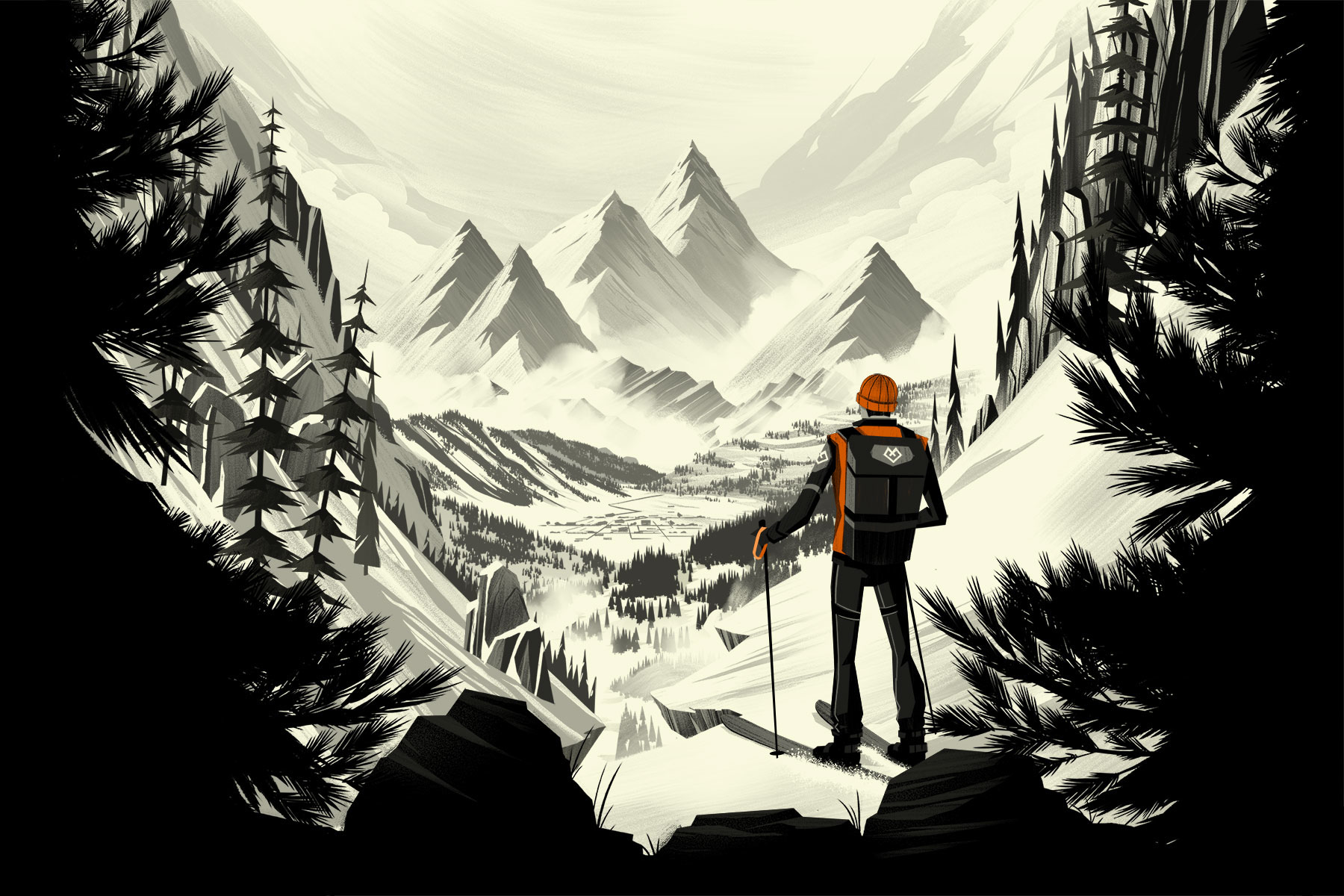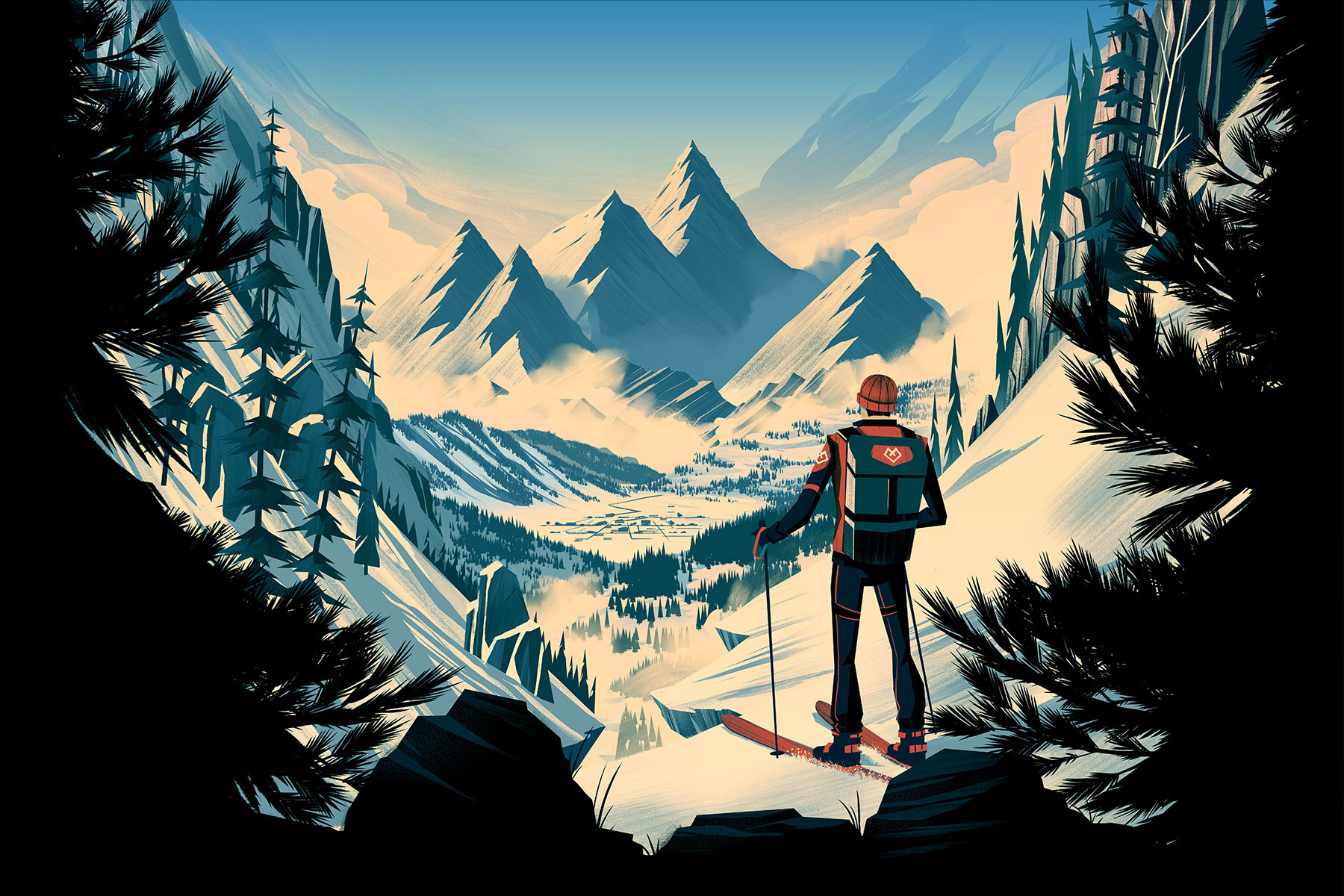 With the overall aesthetic established, I opted to move to pencil and paper for the next sketch. This is a much quicker method for me to solve visual challenges and it allows me to get out of the office and work (which is important for staying somewhat sane).
I developed two roughs and decided to move forward with the first option. I liked the way it broke apart the illustration into scenes but still tied it together with the path the runner was on. I redrew the sketch digitally to ensure all the elements would work well together.
For me, this piece really came alive when I added black and white tones to everything. Something about it started singing, and I liked what I was hearing. With the tones in place, I moved to 3 color options, and 2 of them were chosen to create the same change in daylight animation effect as the Alpine illustration.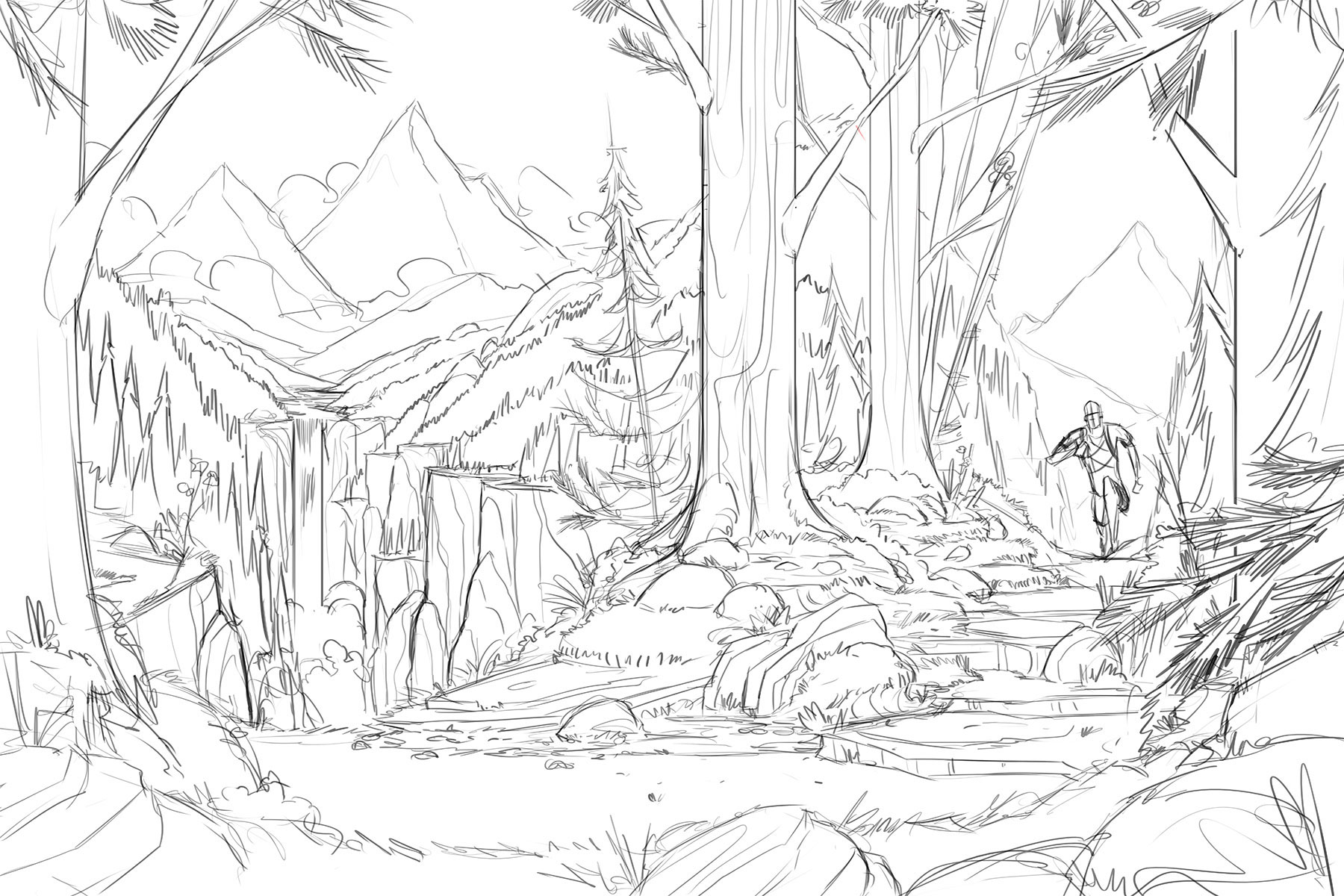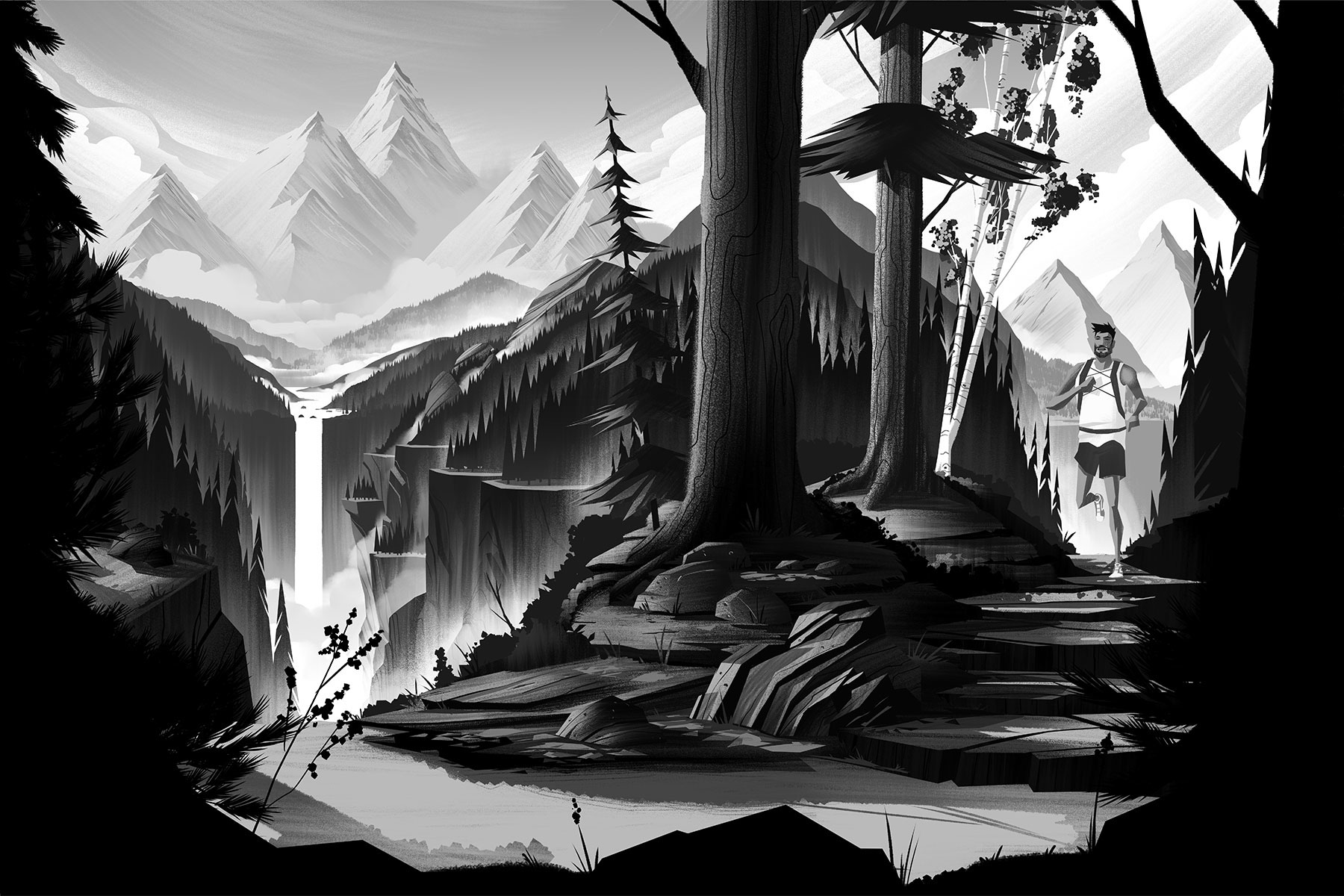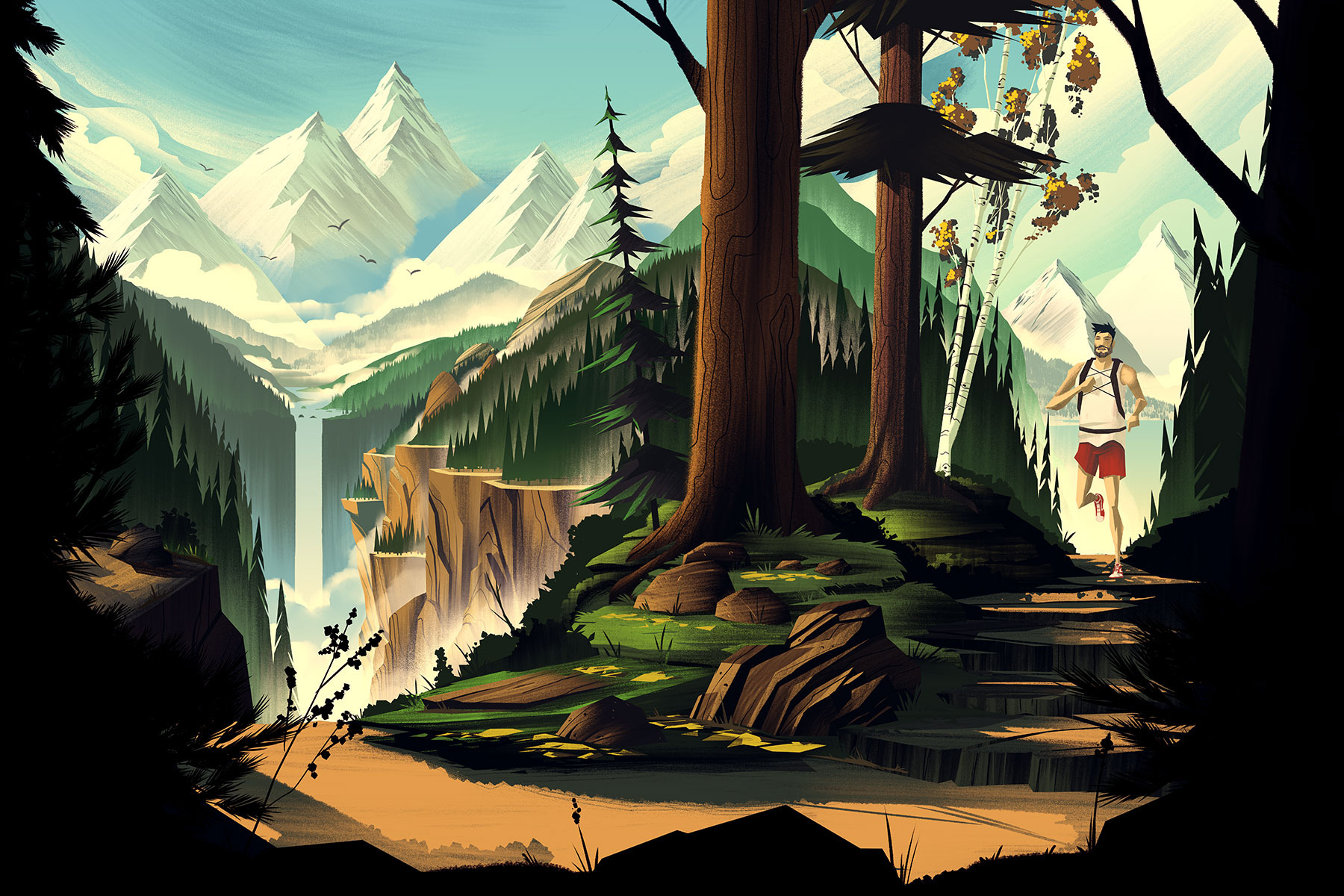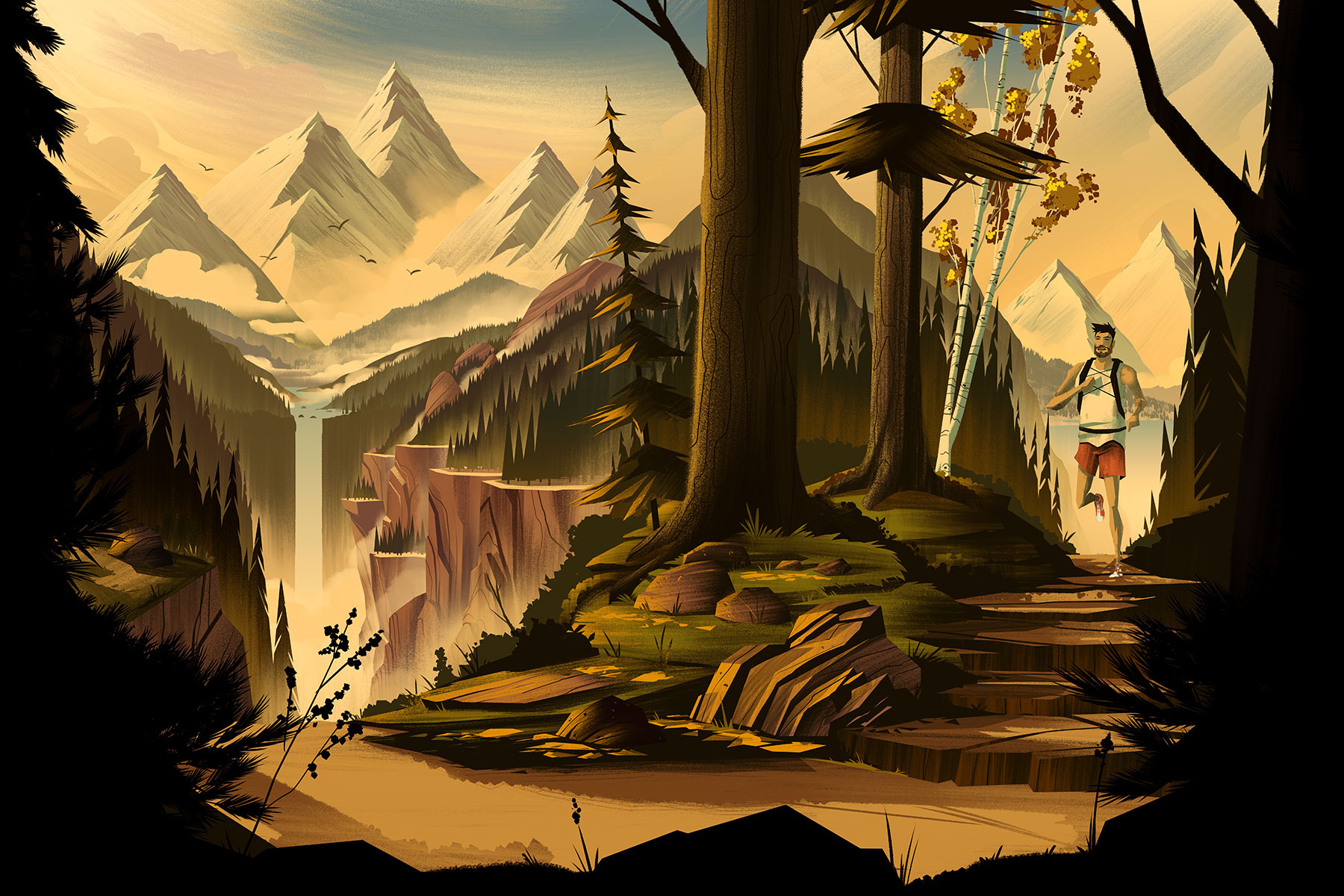 The final illustration, which serves as the signup call to action on the Every Mountain site, was meant to be a cabin in the woods. I did my initial sketch using a combination of traditional and digital materials and then followed my method of adding tones and values and then color.
Once the illustration of the cabin was completed, we felt like it was missing something. Andrew had a great idea to add a couple gearing up outside of a jeep parked in front of the cabin. 
His idea turned out to be just what the piece was missing, and we were all surprised at how well and dramatically it changed the image. I love how the final came out and am thankful to work with clients who have great ideas.