2014 Raleigh Heritage Poster
2015
In 2014, I had the distinct honor and privilege of doing illustration work for Raleigh USA.  The project was to create a series of posters for a new generation while capturing the timeless qualities that make Raleigh and their riders unique.  Raleigh has a long lineage of working with illustrators dating back to 1916 (check them out here: 
http://www.pinterest.com/RaleighBicycles/classic-raleigh-vintage-posters/ 
) and I was thrilled to contribute to such a rich artistic heritage (not to mention I'm a huge fan of mountain biking). 
For the heritage poster, Raleigh wanted to focus on a grand cityscape incorporating a sense of urban adventure and exploration. What I loved about this concept was it afforded us the opportunity to showcase the freedom of discovery that comes with having a bike. You can go places and see things you're going to miss in a car, places that might be too far to access on foot. With the brief in hand, I decided to explore this concept by focusing on a serene moment within a bustling city that is accessed solely through the pedals of a bike.
To kick things off, I put together the initial sketch (seen below). I also created an alternative sketch which focused more on the adventurous aspects of riding a bike in the city. However, after some discussion, the sketch featuring the serenity within the city was the clear winner.
With the sketch in place and approval from Raleigh, I moved on to laying out the basic values of the piece. When I was working on this part, I was really trying to focus on creating romantic lighting which would enhance that feeling of serenity and exploration. Typically if the mood comes through in black and white, it'll sing in color once I've put in lots of work.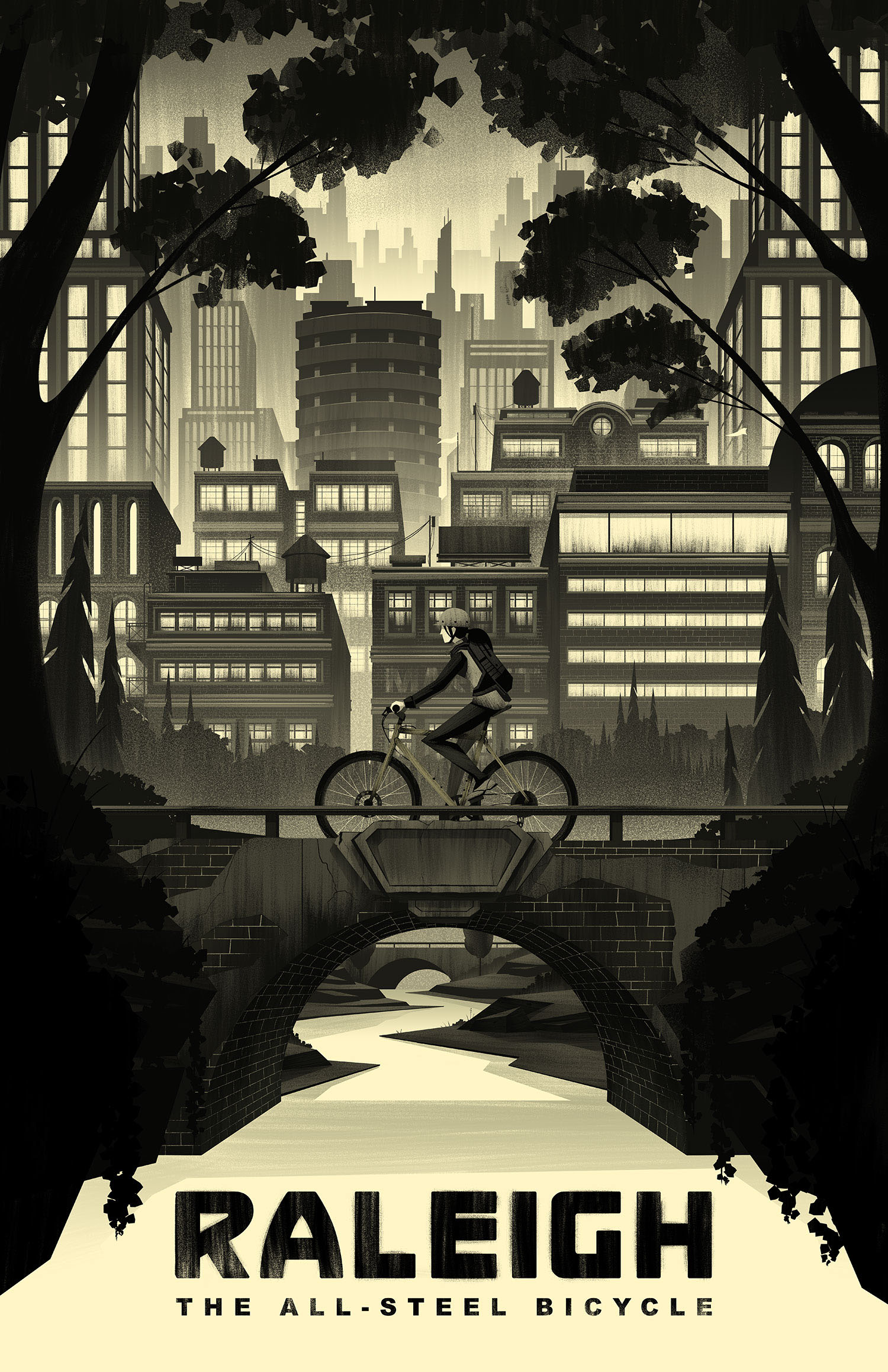 Color can be a finicky thing. Hitting just the right 'sunset' look is a very delicate balance and there are a lot of different directions you can go to create unique results. Below you'll see 3 color options I presented.
The first color option was the winner, but it needed a touch of green to help set the tone just right. Those subtle nuances come with exploration, feedback from the client, and in some cases multiple iterations. Its those iterations which brought us to the end result which you can see in detail below.
I am very thankful to have had the opportunity to work with the fine folks at Raleigh to create what will be one of the most memorable projects of my 2014. Its always enjoyable creating pieces which express a call to adventure, a theme I've been fortunate enough to work with a lot over the years. And big thanks to my agent, Deborah Wolfe, who continuously supports me in these endeavors by taking care of all the business details!
Thanks for reading!